Toronto, ON (April 15, 2021) – With a $50,000 investment from the Government of Canada's Zero-Emission Vehicle Awareness Initiative (ZEVAI), Ecohive, a renewable energy company based in Toronto, designed and developed a social networking App for the EV tech community – Torque Network. The App was launched today on the Apple App Store.
Torque Network enables EV enthusiasts, industry professionals, ecopreneurs and EV newbies to grow their network and impact in the EV space by seamlessly connecting users based on their interests, goals and geolocation. The App breaks barriers to understanding EV tech and key EV concepts through engaging content, interesting facts and infographics offered in the 'EV-Cyclopedia' and 'Learning Portal' features of the App.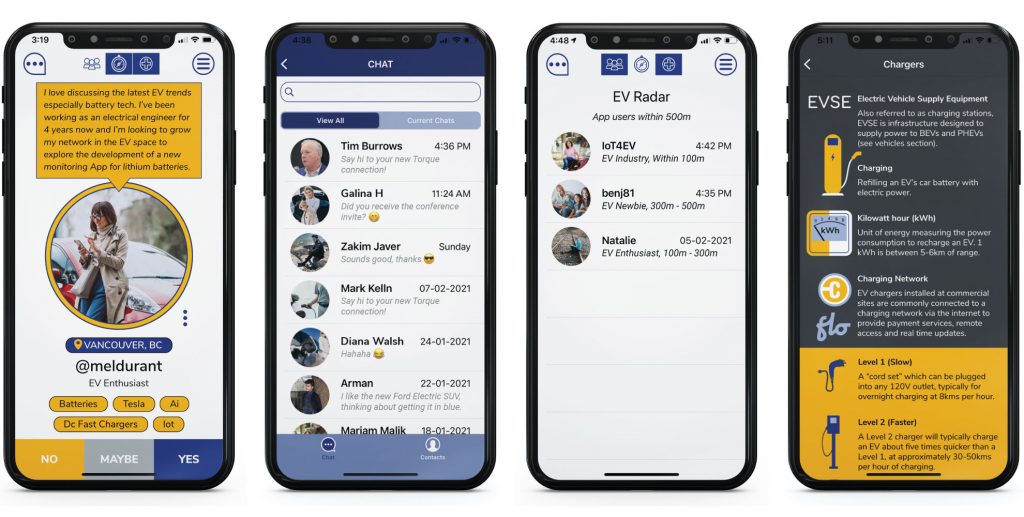 "We're giving Canadians the greener options they want to get to where they need to go. This is how we get to net zero by 2050," said the Honourable Seamus O'Regan Jr., Minister of Natural Resources.
According to Imran Javer, Torque Network's product designer, "with the global pandemic we are seeing Canadians and people all across the world reconnecting with the planet and demanding a higher quality of life that is sustainable. Tech and a little bit of creativity can help us achieve that. This App was created to act as a catalyst for positive change and collaboration through the common appreciation of EVs and other disruptive technologies that are changing the world for the better."
Torque Network's mission is to evolve humanity's consciousness through technological innovations that lower the human carbon footprint and incentivize human behavior to be in harmony with nature.
The App is currently available for download anywhere in Canada on the Apple App Store, it will later be developed for Android with plans to launch in the US, Europe and eventually the rest of the world. The App currently functions as a social-networking and educational platform; its end goal is to create a high-performing digital ecosystem that facilitates the end-to-end process from research, education and information on the latest EV tech, to test drives and the final purchase of EVs, EV services and EV accessories.
About Ecohive
Torque was designed and developed by Ecohive, an engineering company for renewable energy technologies, and would not have been possible without support from the Government of Canada. Prior to Torque, Ecohive has developed solar-powered EV charging stations, net zero homes, vertical gardens and most recently, the world's largest greenhouse integrated photoluminescent solar installation that boosts crop growth and generates clean power for self-consumption. For more information, please visit https://torquenetwork.io/
Partnerships and Media Contact:
Shazia Nanji
778-990-9403
public.relations@torquenetwork.io