Maybe you've heard about solar panel systems and have considered integrating one to your own home or cottage. Maybe you've wondered what is the process and how long does it take? In this blog we will guide you through a customer's journey from the application and permitting stages to the installation and final commissioning.
To make it simple, we'll split the process in to 5 easy steps:
STEP 1 – Home Assessment – 2 WEEKS
When a client is interested in integrating solar to their property, Ecohive first conducts a simulation to assess the solar generation potential of the home or cottage. Usually a South-facing roof is preferred; however, in Robin and Len's case it was the East-facing roof that had the best potential.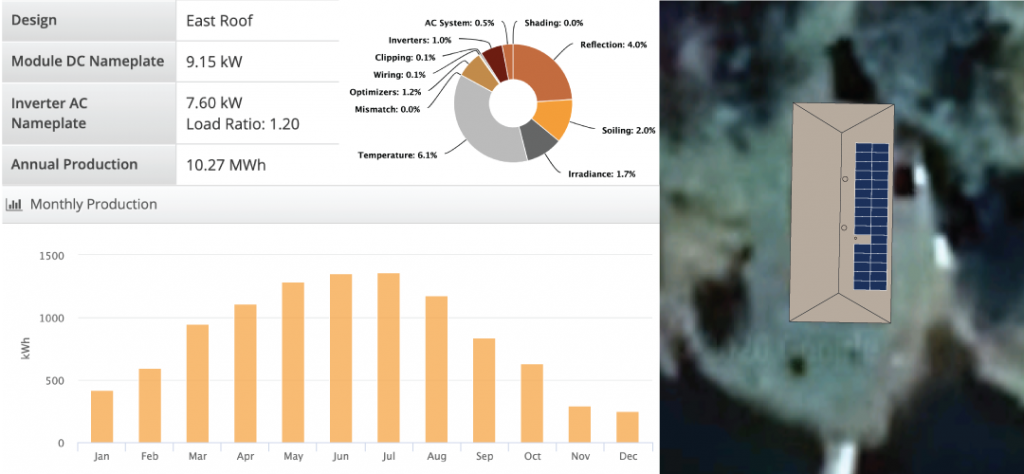 Once we determine that there is good potential, the property's annual electrical consumption is calculated based on the customer's Hydro bill in order to determine the ideal size of the solar array. Usually we aim for the solar to generate up to 80% of your annual electrical demand; however, it is also possible to make your home Net Zero, in which case annual solar generation would equal the home's annual electrical consumption.
STEP 2 – Net-Metering Application – 2 WEEKS
After having determined the ideal size of the solar array, the next step is to fill out a 'Net Metering' application with the client's utility company i.e. Hydro One or Toronto Hydro. But what is net metering? Instead of incurring the high cost of integrating battery storage, net metering allows you to send any extra solar power that you're not immediately using to the grid in exchange for a credit you can use to help you pay for those times when you're not generating enough power and drawing from the grid.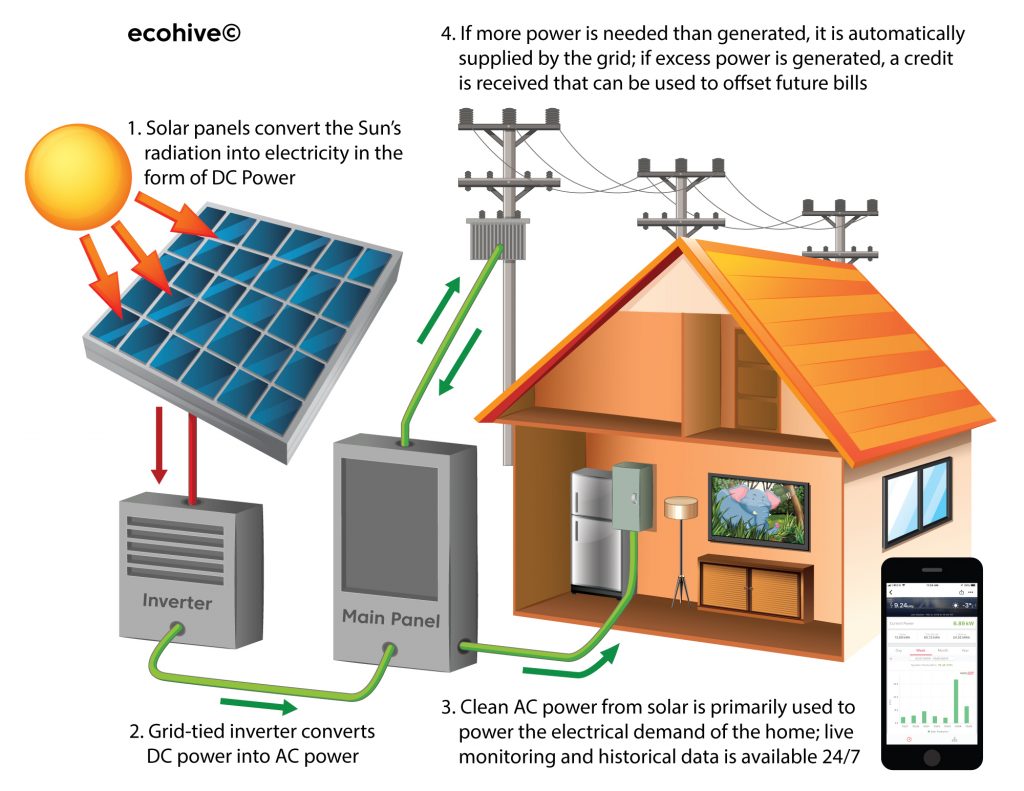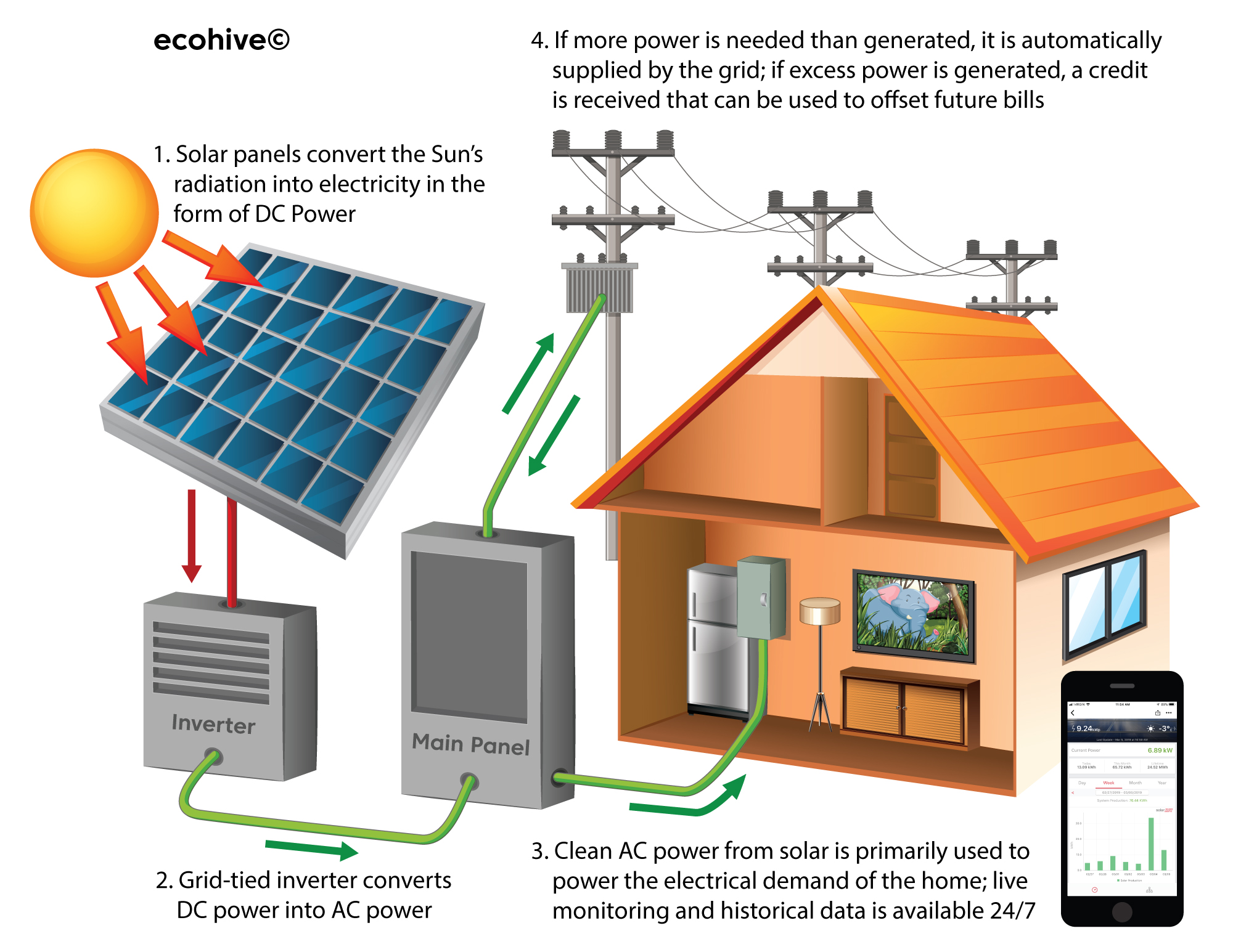 A few days after applying and sending the necessary documentation, the Utility Company will send Ecohive and the client an 'Offer to Connect'.

STEP 3 – Electrical and Structural Evaluation – 2 WEEKS
At this point, an Ecohive technician will visit the client's house to inspect the electrical panel and take measurements of the roof. Ecohive's master electrician will then use this information to design the system whilst a structural engineer will develop and seal a blueprint which will be used to apply for a Building permit with the city.
STEP 4 – Installation – 2-3 DAYS
Once the building permit is issued by the city, Ecohive will begin the installation process. The installation of solar panels only takes a few days. Before installing the panels, a racking and mounting system is installed. Solar panels are then installed on the racking and mounting system securing them to the roof.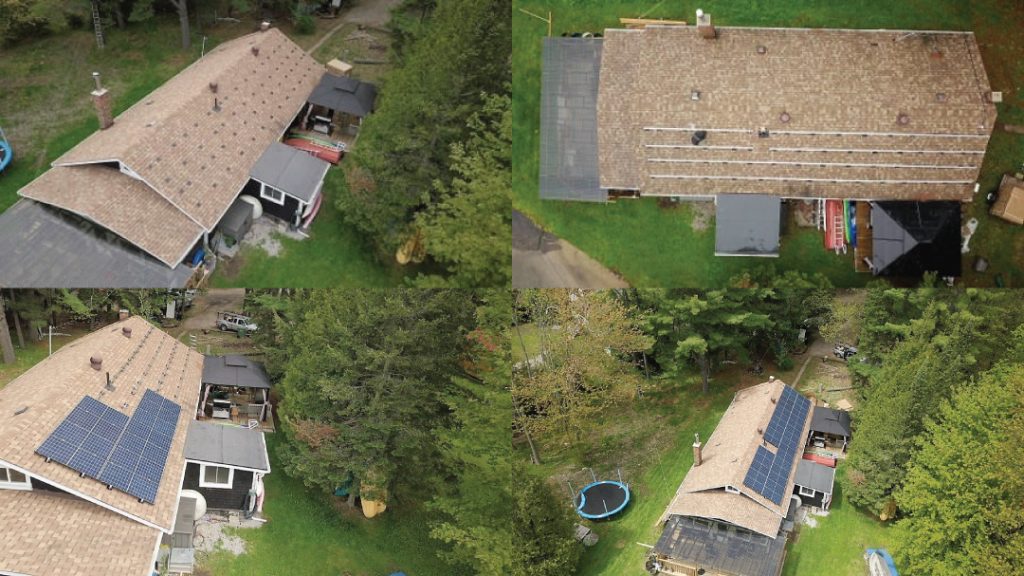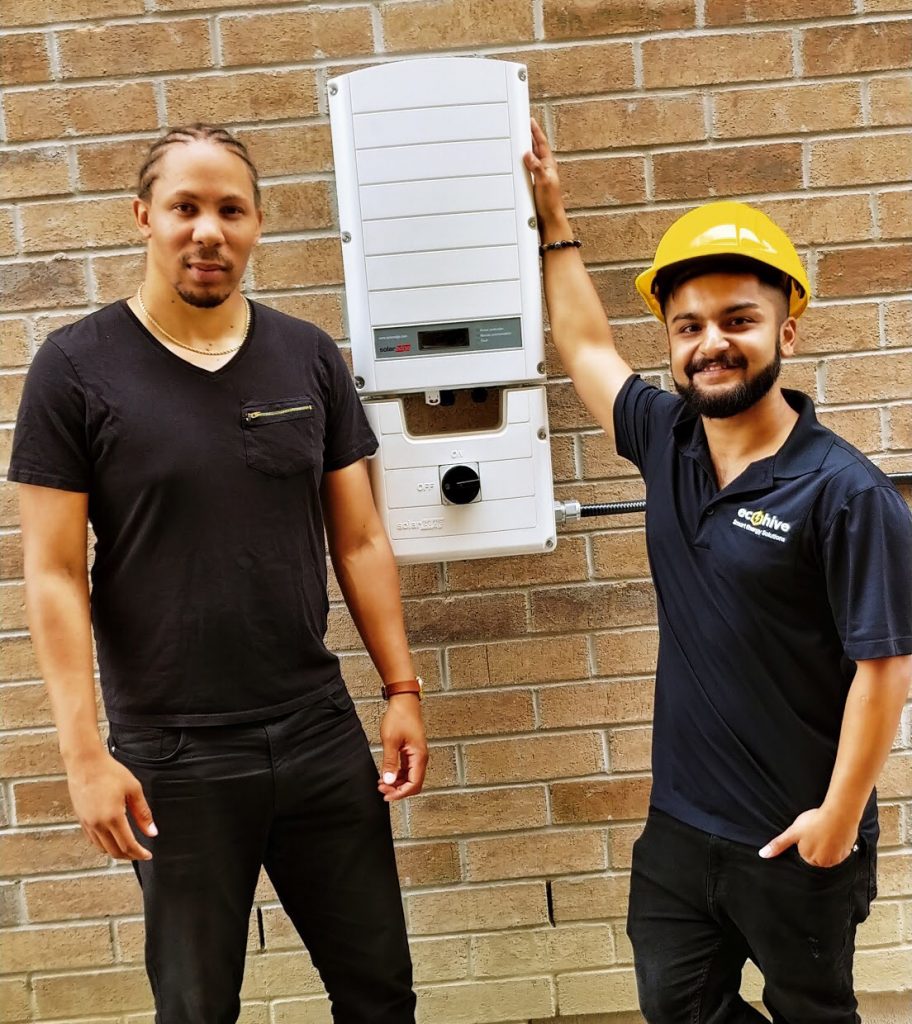 Ecohive will then install a grid-tied power inverter. Solar panels convert the sun's radiation into electricity in the form of Direct Current or DC power. The inverter allows you to convert this DC power into alternating current (AC) so you can power the appliances in your home as well as export any excess electricity to the grid when there is extra solar generation. The inverter usually has a built in monitoring system allowing you to monitor live power generation and historical data 24/7 on an online platform.
STEP 5 – ESA Inspection and Bi-directional meter installation – 2 WEEKS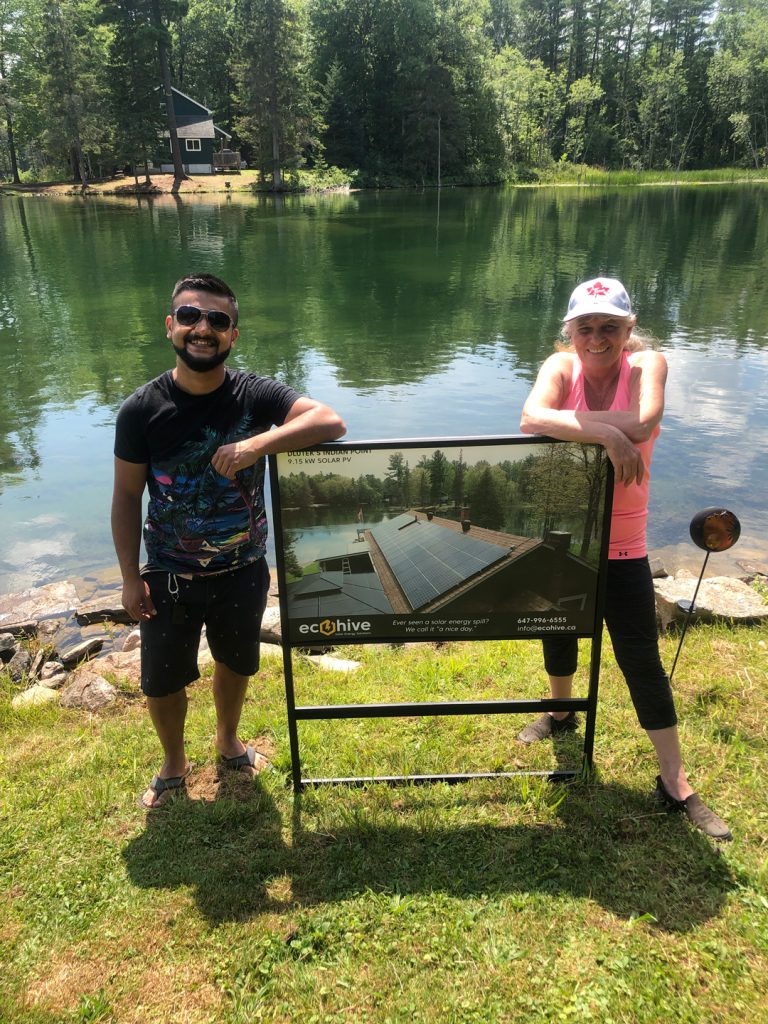 To ensure your home is compliant with the electrical safety standards of Ontario, Ecohive will arrange a post-installation site visit from an Electrical Safety Authority (ESA) officer to inspect and certify your solar panel system.
Once successfully passed, a copy of the ESA certificate is sent directly to your Utility Company. A technician from your Utility company will then visit your home to install a bi-directional meter. The bi-directional meter will basically measure any extra solar power that is sent to the grid against power consumption that you draw from the grid so that you are compensated accordingly.
Finally, it is time to flip the switch on your inverter and start producing clean power! Here is the final result of Robin and Len's 9.15 kW system.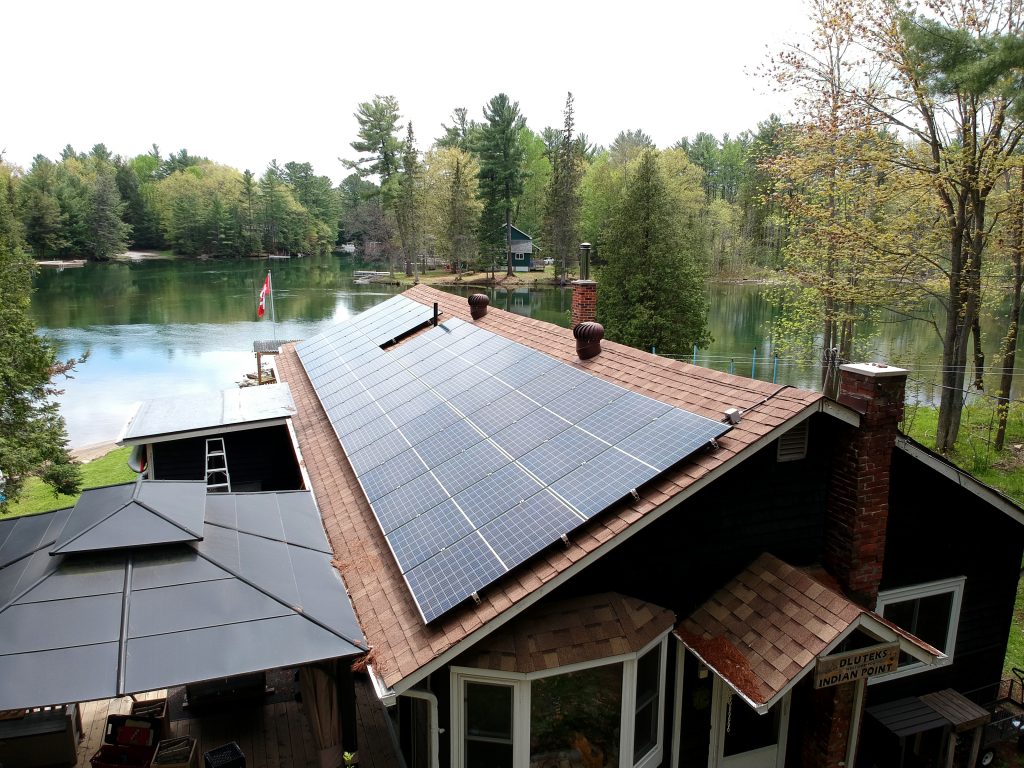 We hope that this article helped you have a clear vision regarding the process of going solar. Hereafter, you'll find Robin & Len's testimony in regard to their experience with Ecohive.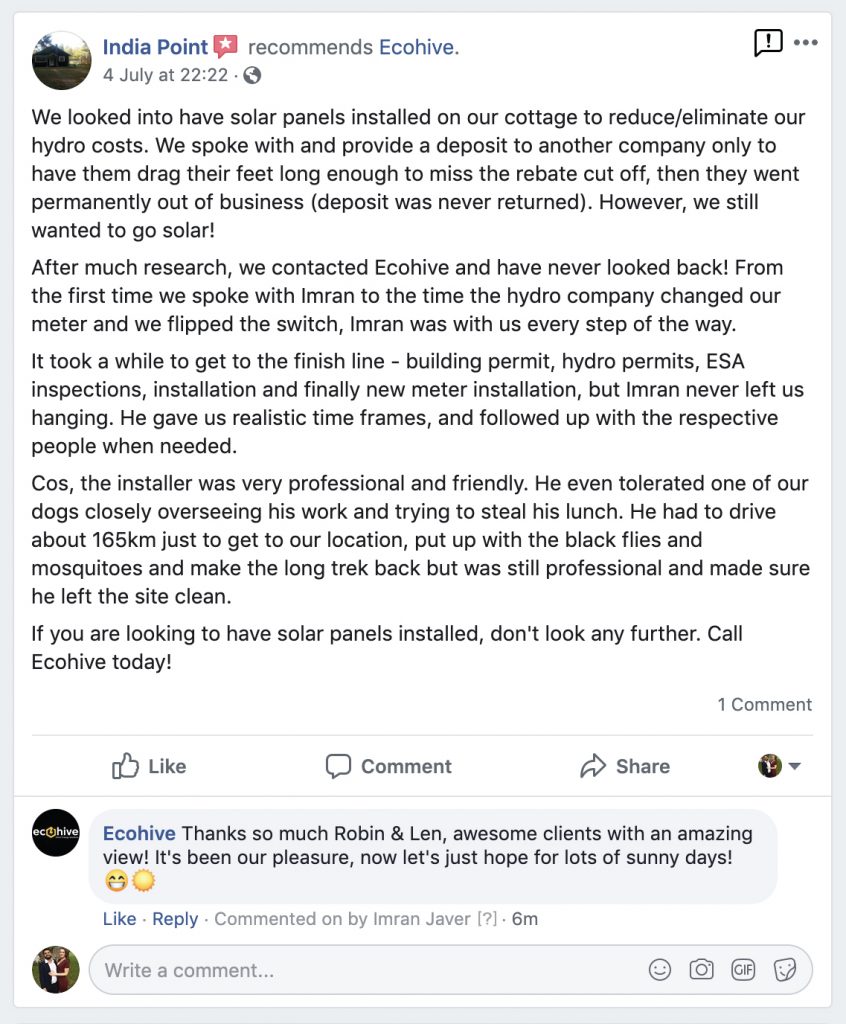 Now that the protocol is no longer a mystery to you anymore, are you ready to generate your own power? If you still have any questions, please feel free to drop us an email at info@ecohive.ca.
Written by Alaeddine El Bachiri (Ecohive Intern and Bioengineering Student at UCL).
Edited by Imran Javer (Director of Design)